XI Conference on Empirical Commerce in Slovenia
The Integration and Trade Sector (INT) of the Inter-American Development Bank (IDB) participated in the XI Conference on Empirical Commerce in Slovenia. The conference, organized by the Faculty of Economics of the University of Ljubljana, was held in Izola from June 12-14.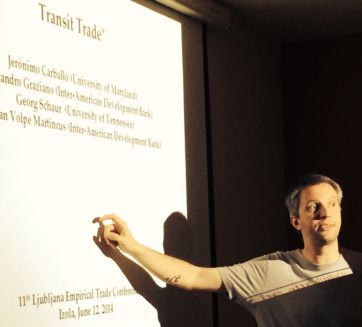 European, North American and Latin American economists presented and discussed their work on various relevant topics of economic policy, such as the effects of trade policy uncertainty on export policy, the impact of trade liberalization on the diversification of differentiated products, the impact of the reversal of foreign direct investment on firm performance, the relationship between outsourcing and employment levels, and how trade integration affects the efficiency of the firms and their pricing decisions, among others.
Christian Volpe, Leading Economist of INT, presented a first version of the study on the impact of the International Transit of Goods (TIM) on exports of enterprises in El Salvador. This work is being performed in conjunction with Jerónimo Carballo (University of Maryland), Alejandro Graziano (INT-IDB) and Georg Schaur (University of Tennessee).
Volpe highlighted in his statement that "preliminary evidence strongly suggests that reducing transit times associated with the TIM has enabled an expansion of exports of Salvadoran firms, especially through an increase in the number of shipments, and in particular, of goods that are time sensitive, such as food products." Catherine Fuss from the Central Bank of Belgium participated in the discussion.
If you want more information, you can find the full program of the conference and the studies presented, here.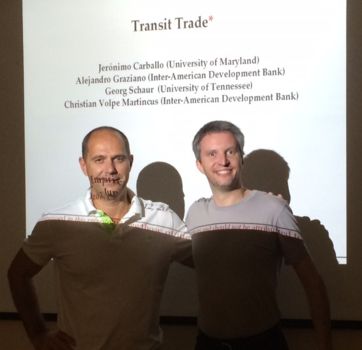 (Image: Christian Volpe, IDB Leading Economist Integration and Trade Sector and Joze Damijan, Professor of Economy in University of Ljubljana)
Events
2018 IDB-IIC Annual Meeting of the Boards of Governors

Mar 22, 2018. Mendoza, Argentina

EconNet: Accessibility and mobility in urban India

Dec 14, 2017. 1300 New York Ave., NW, Washington, DC - Room SE-1035, United States

EconNet: Formal and Informal Firm Dynamics

Dec 7, 2017. 1300 New York Ave., NW, Washington, DC - Room SE-1035, United States