What are the business opportunities between Korea and Latin America and the Caribbean?
The 19thKorea-Latin America Business Forum, held on November 26 in Seoul, brought together trade policymakers, researchers and private sector representatives from Korea and Latin America. A panelist from the Inter-American Development Bank's (IDB) Integration & Trade Sector spoke to the Forum on the economic integration trends and prospects in Latin America and the Caribbean (LAC), addressing the emerging drivers and shifting patterns of world trade, how LAC fits into these new trends in the more challenging environment of lower global growth, and an agenda for LAC to increase its productive integration globally and regionally.
An afternoon panel discussion addressed the opportunities for the private sector from Korea – Latin America trade and investment, including recent experiences and lessons learned, how to create an enabling environment for the private sector, and future scenarios. The panel then moved on to a discussion of development cooperation, including recent advances at the global level such as the 2030 Agenda for Sustainable Development and the Addis Ababa Action Agenda (AAAA), and discussed proposals to boost future cooperation between Korea and LAC bilaterally and collectively.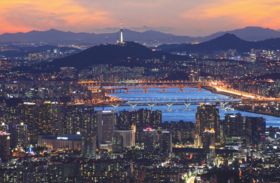 The event was jointly organizedby the Korea Institute for International Economic Policy, the Korean Council on Latin America & the Caribbean, the Korea International Trade Association, the Ministry of Trade, Industry and Energy of Korea, and the International Contractors Association of Korea. The IDB supported the participation of panelists from LAC with resources from the Public Capacity Building Korea Fund for Economic Development.
The Business Forum built upon the successful exchange of experiences that took place during the Knowledge Sharing Forum on Development Experiences: Comparative Experiences of Korea and LAC, which was held in March 2015 in Busan, Korea alongside the IDB-IIC 2015 Annual Meeting, and where the comparative experiences of Korea and LAC in trade and investment were presented in research prepared by the Korea Institute for International Economic Policy and the Research Center of Pacifico University from Peru.
Events
2018 IDB-IIC Annual Meeting of the Boards of Governors

Mar 22, 2018. Mendoza, Argentina

EconNet: Accessibility and mobility in urban India

Dec 14, 2017. 1300 New York Ave., NW, Washington, DC - Room SE-1035, United States

EconNet: Formal and Informal Firm Dynamics

Dec 7, 2017. 1300 New York Ave., NW, Washington, DC - Room SE-1035, United States