The IDB Trained 2,000 Integration Officials in 2014
The Inter-American Development Bank (IDB), through its Capacity Building Program on Integration and Trade, continues to pool efforts to disseminate knowledge to integration officials in Latin America and the Caribbean (LAC), with a total of 58 courses implemented and 1957 public officials certified, equivalent to a certification rate of 87% in 2014. In this period, the greater demand was experienced in the subject matters of Single Window for Foreign Trade, Rules of Origin in Preferential Trade and Customs Management and Leadership, reaching a total of 196, 168 and 147 certificates, respectively.
A comparative analysis of the course offering in 2013 and 2014 yields a growth of over 100% in terms of the number of tutored virtual courses, number of applicants and number of certificates. Additionally, nine new integration subject matters were added to achieve a total of 18.
Furthermore, the Program gave rise to the establishment of Communities of Practice specific to Rules of Origin, Authorized Economic Operator, Single Window, and Coordinated Border Management. These Communities of Practice are virtual platforms for collaborative work that will allow professionals to share knowledge, experiences, opinions, articles and videos through seminars, webinars, and a virtual library.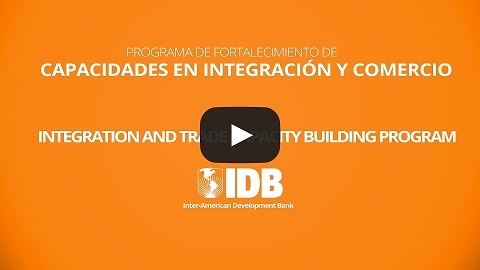 During 2014, Massive Online Open Courses (MOOCs) were developed in the ConnectAmericas platform, launching four particular editions of the Rules of Origin and International Transit of Merchandise MOOCs with more than 100 participants each.
Moreover, a community was established among professionals responsible for training and human resources management in Customs, Chambers of Commerce, Vice ministries of Foreign Trade, and Export Promotion Agencies. Seminars, monographic sessions and presentations were conducted by experts in the region, with the goal of satisfying the training needs of such entities. It should be emphasized that these entities are the ones that participate from start to finish in the "productive chain" of trade, from the origin of trade agreements to their implementation to export promotion.
Among the challenges the Program faces in 2015 are securing the use of virtual tutored training instruments at the same level than 2014, investing in continuous training with the Communities of Practice, offering a higher number of MOOCs and being able to create a monitoring mechanism that will allow measuring the impact on users and the institutions where they work.
Led and coordinated by the IDB's Integration and Trade Sector, the Program also involves the participation of the Institute for the Integration of Latin America and the Caribbean (INTAL) and the Inter-American Institute for Economic and Social Development (INDES), in collaboration with the World Customs Organization (WCO); the World Trade Organization (WTO) and the International Trade Centre among other global organizations.
For more information about the program Capacity Building Program on Integration and Trade, click here.
Events
2018 IDB-IIC Annual Meeting of the Boards of Governors

Mar 22, 2018. Mendoza, Argentina

EconNet: Accessibility and mobility in urban India

Dec 14, 2017. 1300 New York Ave., NW, Washington, DC - Room SE-1035, United States

EconNet: Formal and Informal Firm Dynamics

Dec 7, 2017. 1300 New York Ave., NW, Washington, DC - Room SE-1035, United States