Strength in Numbers
Haiti launches a Public-Private Partnership legislative project
This past December 7 and 8, in Port au Prince, the Secretary of State for Tax Reform, Ronald Décembre, and the chief of the Central Management Unit of Public-Private Partnerships, Rose Lourdes Elysee, inaugurated the I Workshop for the Launch of the Project Draft of the Public-Private Partnership Law in Haiti. The IDB, within the framework of the project "Private Sector Development Through Promoting Investments," has supported the Ministry of Economy and Finance with expertise in its purpose.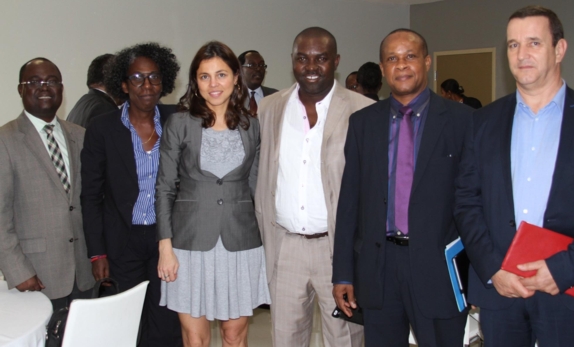 WHAT IS A PUBLIC-PRIVATE PARTNERSHIP?
A PPP, in general terms, is an agreement between the public sector and the private sector in which a part of the services or work that is the responsibility of the public sector is supplied by the private sector, under a clear agreement of shared objectives to provide the public service or the public infrastructure.
WHY A PPP LAW IN HAITI?
In tune with the rest of nations in the region, Haiti is developing a legislative project for Public-Private Partnership (PPP), with the ensuing implementation code, to regulate the scope and manner of public-private cooperation. The workshop is an important milestone in this process and had the active participation of the principal public-private actors for the improvement of the PPP legislative project.
WHAT ARE THE ADVANTAGES OF A PPP REGULATORY FRAMEWORK FOR THE PUBLIC-PRIVATE SECTOR?
- It is a tool that allows the public sector to manage the delivery of goods and services to citizens with a new approach, and the novelty is the way to manage in collaboration with the private sector.
- It is a financial management tool. PPPs promise to reduce pressure on public budgets through private financing of infrastructure and also an improvement in the quality-price relationship in providing public infrastructure.
- It will maximize the benefits of development for Haiti through public-private collaboration and with improved efficiency.
HOW DOES PPP LEGISLATION HELP ATTRACT FOREIGN INVESTMENT?
- Increases the capacity that external investors invest in infrastructure and public services management, favoring the strategic association between the pubic sector and local businesses with foreign companies, by reducing the risk to the foreign investor of that particular investment.
- Facilitates that foreign companies can count with a stable regulatory framework and that they reduce the risk of their investment.
- Widens the Haitian market by offering to investors and foreign businessmen new business areas.
In short, the PPP Law and the entire regulatory framework entail an important outcome to foster collaboration between the public and private sectors, in addition to having a positive effect in the improvement of the investment climate in the country, with a positive impact in the economic development and the potential capacity to attract foreign direct investment to Haiti.
Events
2018 IDB-IIC Annual Meeting of the Boards of Governors

Mar 22, 2018. Mendoza, Argentina

EconNet: Accessibility and mobility in urban India

Dec 14, 2017. 1300 New York Ave., NW, Washington, DC - Room SE-1035, United States

EconNet: Formal and Informal Firm Dynamics

Dec 7, 2017. 1300 New York Ave., NW, Washington, DC - Room SE-1035, United States