Towards Inclusive Rules of Origin
RTA Exchange Policy Dialogue
Geneva, Switzerland - The Integration and Trade Sector (INT) of the IDB co-organized on November 21-22 a policy dialogue, Towards Inclusive Rules of Origin, with the International Centre for Trade and Sustainable Development / E15 Initiative. This was the first in a series of RTA Exchange policy dialogues that will take place over 2016 and 2017, to systematically explore possibilities for convergence and coherence-building between regional trade agreements (RTAs) and the multilateral trading system.
RTAs have been a driving force behind recent trade liberalisation efforts and the formation of many global value chains (GVCs). However, RTAs also create limitations for countries inside and outside a trading block due to their rules of origin (RoO). The complexity and variety of RoO that exist today represents a challenge for many firms seeking to participate in production networks across various trade agreements. Empirical evidence suggests that strict RoOs often result in the sub-optimal functioning of value chains by disincentivizing the use of cheaper parts and materials from third countries. Complex and diverse sets of RoO can also affect the ability of developing countries, including ones throughout Latin America and the Caribbean to fully benefit from the enhanced market access granted through preferential schemes or negotiated under their RTAs.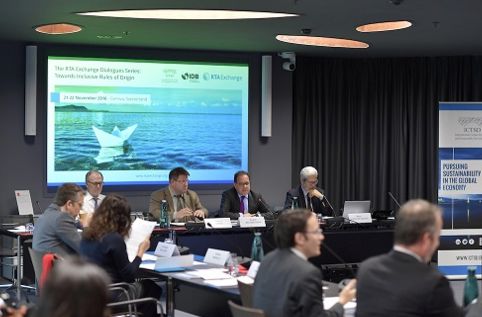 At the policy dialogue, trade experts from Latin America, Asia, Europe and Africa came together to discuss these issues and options for reforming RoOs, looking at both the content of the rules applied to specific products and the broader architecture of the origin regime. The participants looked at recent developments in preferential trade agreements and the critical issues related to the design and implementation of RoO regimes. How are they implemented, how are they utilized by companies? Speakers also examined the implication of different models and approaches to RoO for the operation of regional and global supply chains, with a particular focus on small and medium enterprises (SMEs) and less developed countries. Concrete steps towards creating simplified and harmonised RoOs were put forwards. For example, multilateral guidelines from the World Trade Organization, intermediate agreements on cumulation to promote interoperability among different schemes. Participants also discussed how to link RoO with other important issues such as promoting greater participation of SMEs in global trade, the formation and/or expansion of GVCs, as well as social dimensions of more inclusive trade.
Events
2018 IDB-IIC Annual Meeting of the Boards of Governors

Mar 22, 2018. Mendoza, Argentina

EconNet: Accessibility and mobility in urban India

Dec 14, 2017. 1300 New York Ave., NW, Washington, DC - Room SE-1035, United States

EconNet: Formal and Informal Firm Dynamics

Dec 7, 2017. 1300 New York Ave., NW, Washington, DC - Room SE-1035, United States