Regional Workshop on Trade Facilitation
Bogota, Colombia - In order to share best practices for the implementation of the World Trade Organization (WTO) Agreement on Trade Facilitation (TFA), a Regional Workshop was held in Bogota from October 20th to 22nd. The activity was organized by the World Customs Organization (WCO) and the National Directorate of Taxes and Customs of Colombia (DIAN). The Inter-American Development Bank (IDB) through the Japan Special Trust Fund and the Korea Customs supported the workshop. The Workshop was attended by representatives of 27 Customs administrations, Ministries of Commerce and other border agencies ofLatin America and Caribbean, as well as representatives from the WTO, the IDBand numerous representatives of the private sector.
During the Workshop, the participating countries and their Border Control Agencies and Trade Ministries reiterated the commitment to carry out strategic initiatives in order to comply with the TFA, which range from the creation of National Trade Facilitation Committees to enhancement in risk management systems, the development of systems to improve the transit of goods, the enabling of Foreign Trade Single Windows and the strengthening of programs - such as the Authorized Economic Operator - to seek a more expeditious release of goods under efficient controls.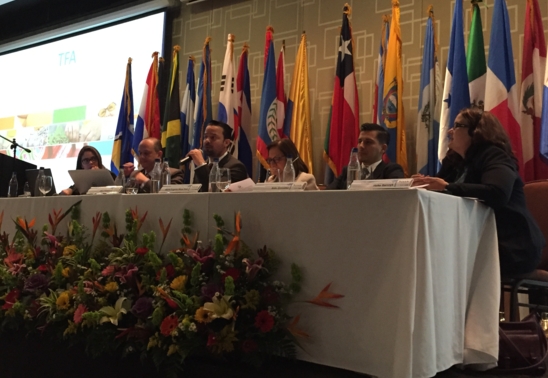 The Workshop revealed that all these measures should be conductedin a coordinated way between all Border Control Agencies under a scheme of Coordinated Border Management for the optimal performance of the supply chains, and in close collaboration with the private sector. Participants valued positively the technical and financial assistance and training provided by international organizations. As examples of this support it was mentioned the Virtual Trade Facilitation Courses of the Capacity Building Program offered by the IDB, which has certified more than 2,000 customs officers in TFA related areas in the last three years, and the technical and financial assistance and resources for regional initiatives such as the AEO, TIM and SW, as well as investment projects to improve border crossings in the region.
Events
2018 IDB-IIC Annual Meeting of the Boards of Governors

Mar 22, 2018. Mendoza, Argentina

EconNet: Accessibility and mobility in urban India

Dec 14, 2017. 1300 New York Ave., NW, Washington, DC - Room SE-1035, United States

EconNet: Formal and Informal Firm Dynamics

Dec 7, 2017. 1300 New York Ave., NW, Washington, DC - Room SE-1035, United States