New York, London and Singapore
Pacific Alliance promotes investment opportunities
Seeking to promote and expand investment opportunities and to generate awareness among business and investors about the business opportunities of the Pacific Alliance, the member countries – Chile, Colombia, Mexico and Peru, will hold, for the first time, a series of international conferences in New York, London and Singapore, the epicenters of the financial markets. The conferences are being organized by the Pacific Alliance Business Council, under the title "Investment Opportunities in the Pacific Alliance Countries " in association with the Financial Times and with the support of the Inter-American Development Bank.
The first conference in this important Roadshow will take place in New York City on the 27 and 28 of September of 2015, and will be attended by President Michelle Bachelet, President Juan Manuel Santos, President Enrique Peña Nieto, and President Ollanta Humala. Also, attending are the Ministers of Finance, Trade and Governors of the Central Banks of the four member countries, as well as businessmen, financial institutions and pension fund representatives, economists, entrepreneurs and CEOs of world renown enterprises.
In this context, Luis Alberto Moreno, IDB President, moderated a conversation among the Ministers of Finance on priority issues for the financial integration of the bloc, including portability of pensions funds, greater participation in capital markets, infrastructure development and financing, integration of the Stock Exchange (MILA), financial protection safety measures and natural disasters risk transfer, among others.
During this past year, the Finance Ministers of the four countries have been promoting the progress made in financial integration within the Pacific Alliance. Under the context of the last Presidential Summit held in the Peruvian city of Paracas earlier this year in July, the Finance Ministers Council of the Pacific Alliance was officially established with the specific mandate deeping progress in financial integration, infraestructure investment, fiscal transparency, and management and natural disaster risk managements.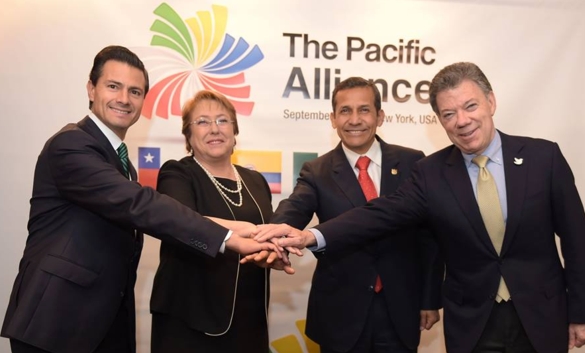 The Pacific Alliance, which seeks to build an area of deep economic integration and to move toward the free movement of goods, services, capital and people, has become one of the most dynamic regional integration initiative worldwide. The Pacific Alliance has a combined GDP of 2.1 billion dollars, equivalent to 36% of the Latin America and Caribbean GDP and the ninth largest economy worldwide. The four countries concluded the Framework Agreement in 2012 and, since then, have achieved important integration initiatives, creating one of the most important and dynamic initiatives in the region.
Events
2018 IDB-IIC Annual Meeting of the Boards of Governors

Mar 22, 2018. Mendoza, Argentina

EconNet: Accessibility and mobility in urban India

Dec 14, 2017. 1300 New York Ave., NW, Washington, DC - Room SE-1035, United States

EconNet: Formal and Informal Firm Dynamics

Dec 7, 2017. 1300 New York Ave., NW, Washington, DC - Room SE-1035, United States