OUTSOURCE2LAC transforms Guatemala into business center of Latin America and the Caribbean
It is the most popular and influential Outsourcing and Offshoring Forum in the region
The fourth edition of OUTSOURCE2LAC, the most prominent outsourcing and offshoring forum in Latin America and the Caribbean (LAC) will be held in Guatemala on November 12 and 13, 2014. The event expects to host more than 500 firms from the services sector, including representatives of major firms in LAC, Asia, Europe and North America. Over twenty Trade Promotion and Investment Agencies from LAC countries are also likely to attend.
The Integration and Trade Sector (INT) of the Inter-American Development Bank (IDB) organizes this event with the support of the Ministry of Economy of Guatemala through its Investment Promotion Agency "Invest in Guatemala," AGEXPORT, and the International Association of Outsourcing Professionals (IAOP).
"OUTSOURCE2LAC is part of a comprehensive strategy that the IDB has led for several years to support countries in the region to position themselves in the global services sector, which has important benefits for the economies of Latin America and the Caribbean, such as creation of high value-added jobs, technology transfer, increased foreign direct investment and diversification of export supply, among others. So this forum is a unique opportunity for participants to exchange the latest trends in the sector and identify business opportunities in the region," said Jaime Granados, IDB Lead Specialist in Integration and Trade.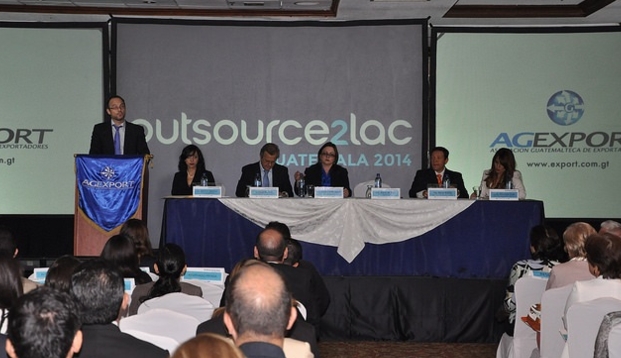 OUTSOURCE2LAC provides participants with:
- Opportunities to exchange with industry leaders on the latest trends in the global services sector.
- Opportunities to identify and do business in LAC.
- A business matchmaking session between international buyers and suppliers.
"This event seeks to continue the expansion and strengthening of outsourcing and offshoring industry in Latin America. The Outsouce2LAC 2014 puts us in the world's spotlight to attract more investments in this sector and generate more employment opportunities," said Claudia Del Aguila, Deputy Minister of Investment and Competition of the Ministry of Economy of Guatemala.
Since its first edition in Montevideo in 2011, and later in Medellin (2012) and Buenos Aires (2013), OUTSOURCE2LAC has brought together over 1,800 participants from the global services industry from LAC countries, United States, Ireland, Spain, France, Egypt, India and the Philippines. Over the years more than 2400 business meetings have taken place, and according to surveys received, they have managed to generate business deals of more than US$14 million - as a total amount from all the past editions.
This fourth edition in Guatemala City features ConnectAmericas ( www.connectamericas.com ), the premier online community of companies in Latin America and the Caribbean dedicated to international trade and investment, which offers participants access to customers, suppliers, partners and investors worldwide.
For additional information, please visit our website: www.outsource2lac.com or contact us via email: o2lac@iadb.org
Events
2018 IDB-IIC Annual Meeting of the Boards of Governors

Mar 22, 2018. Mendoza, Argentina

EconNet: Accessibility and mobility in urban India

Dec 14, 2017. 1300 New York Ave., NW, Washington, DC - Room SE-1035, United States

EconNet: Formal and Informal Firm Dynamics

Dec 7, 2017. 1300 New York Ave., NW, Washington, DC - Room SE-1035, United States