New Capacity Building collaborative space
IDB launches Integration and Trade Communities of Practice
In addition to the online tutored courses offered by the Inter-American Development Bank's (IDB) Capacity Building Program on Integration and Trade - which since 2012 has trained more than 3,000 specialists from Latin America and the Caribbean (LAC) - the IDB has developed an ecosystem of Communities of Practice in order to strengthen capacity building efforts and deepen the operational knowledge on integration in the region. This new virtual space allows professionals from different countries working on integration projects or programs to connect with each other.
After analyzing the most innovative virtual training tools of the Learning and Development sector, IDB designed and developed its Communities of Practice, which consist of groups of people who share common concerns, a set of problems or an interest in a topic (in this case, integration and trade issues) and who want to expand their knowledge and expertise in this area through continuous interaction with each other. These social virtual environments especially created to bring continuity to the axes of knowledge that the Program provides through its courses and mediated by a team of facilitators and enablers, invite their participants to develop a joint working plan that pursues a series of learning objectives pertaining to practical integration projects or programs in matters such as rules of origin harmonization, single window for foreign trade, authorized economic operator or coordinated border management.
The Communities of Practice have developed many tools to enhance the knowledge exchange among their members, such as discussion forums, virtual sessions via webinars and document repositories open to the public, among others. Certified participants in any of the courses of the Capacity Building Program on Integration and Trade can register in one of these on-line communities through the following link. Those who have not participated in a course but are interested in the Program can register for specific events and webinars as well as access course materials.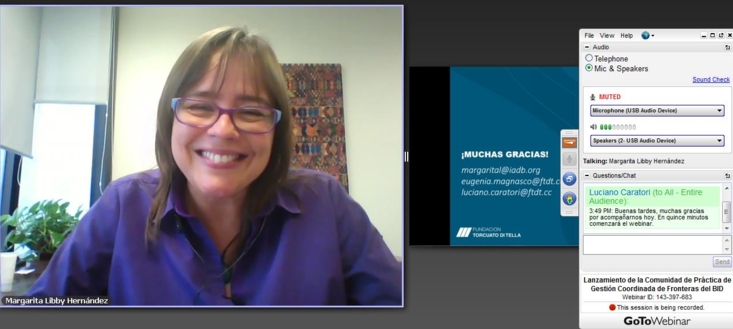 To date, the Communities of Practice initiative has nearly 1,000 registered members in the following topics: Coordinated Border Management, Preferential Rules of Origin, Authorized Economic Operator, eCommerce and Single Window for Foreign Trade. The launching of two additional communities of practice in Sanitary and Phytosanitary Standards and International Transit of Merchandise is expected before the end of 2015.

Led and coordinated by the IDB's Integration and Trade Sector, the Program also involves the participation of the Institute for the Integration of Latin America and the Caribbean (INTAL) and the Inter-American Institute for Economic and Social Development (INDES).

With this new virtual collaborative space, the IDB through its Capacity Building Program on Integration and Trade, expands its efforts to disseminate integration operational knowledge in the subject matters of trade policy, trade facilitation and security, export promotion and investment attraction, targeting public and private sector representatives that have graduated from IDB's Program.

For more information about the Capacity Building Program on Integration and Trade, click here.
Events
2018 IDB-IIC Annual Meeting of the Boards of Governors

Mar 22, 2018. Mendoza, Argentina

EconNet: Accessibility and mobility in urban India

Dec 14, 2017. 1300 New York Ave., NW, Washington, DC - Room SE-1035, United States

EconNet: Formal and Informal Firm Dynamics

Dec 7, 2017. 1300 New York Ave., NW, Washington, DC - Room SE-1035, United States