Americas Business Dialogue
Business leaders gather to foster regional competitiveness and development
Guatemala City – In the framework of the IX Americas Competitiveness Forum, organized by the Guatemala National Competitiveness Program (PRONACOM), and the Chamber of Industry of Guatemala, the Americas Business Dialogue held a meeting with representatives from business associations of Central America and Mexico –including Unión Costarricense de Cámaras y Asociaciones de la Empresa Privada (UCCAEP), Asociación Nacional de la Empresa Privada (ANEP) from El Salvador, Comité Coordinador de Asociaciones Agrícolas, Comerciales, Industriales y Financieras (CACIF) from Guatemala, Consejo Hondureño de la Empresa Privada (COHEP), and the Consejo Empresarial Mexicano de Comercio Exterior, Inversión y Tecnología (COMCE)- with the objective of dynamizing intra-regional trade and supporting the integration efforts between Central America and Mexico.
The participants discussed the opportunities and challenges faced by the private sector and analyzed those sectors of mutual interest in order to dynamize trade and deepen integration. In addition, the participants highlighted the importance of having a public-private dialogue mechanism such as the Americas Business Dialogue, where the private sector can generate consensus on key issues for development and the present specific proposals to governments.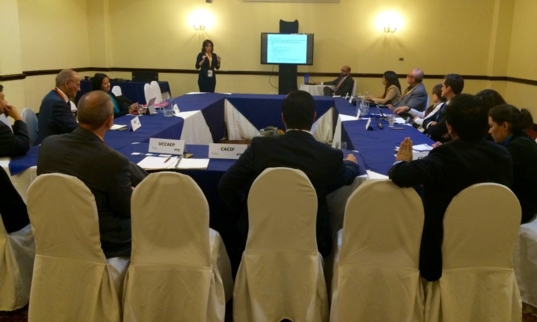 Furthermore, Dr. Shunko Rojas -Specialist of the IDB Trade and Investment Unit and Coordinator of the Americas Business Dialogue presented the progress of the initiative to the members of the Latin American Industrial Association (AILA), in the context of its 53rdGeneral Assembly, also held in the framework of the IX ACF, The Americas Business Dialogue is a private sector driven initiative facilitated by the IDB aimed to foster a high level public-private policy dialogue among the business and government leaders on the priorities, opportunities and challenges for the economic and social development of the region. Currently, the ABD network is composed by more than 65 business associations and close to 200 leading companies from 30 countries of the region.
After presenting its report, "From Dialogue to Action: Policy Recommendations and Public-Private Partnership Proposals" at the II CEO Summit of the Americas, the Americas Business Dialogue is advancing on the implementation of its initial recommendations and proposals towards the III CEO Summit (Lima, 2018).
Events
2018 IDB-IIC Annual Meeting of the Boards of Governors

Mar 22, 2018. Mendoza, Argentina

EconNet: Accessibility and mobility in urban India

Dec 14, 2017. 1300 New York Ave., NW, Washington, DC - Room SE-1035, United States

EconNet: Formal and Informal Firm Dynamics

Dec 7, 2017. 1300 New York Ave., NW, Washington, DC - Room SE-1035, United States