AEO program lands in Brazil
Brazil Customs launches Authorized Economic Operator
On December 12, Brazil Customs officially launched its Authorized Economic Operator (AEO) program, which aims to improve security in the logistic chain, facilitate trade, and enhance private sector competitiveness. The AEO is a partnership between customs and the private sector whereby companies that voluntarily join the program and comply with a set of requirements receive priority treatment for exporting and importing goods.
The AEO program is part of the customs modernization strategy undertaken by the Government of Brazil and has been supported by the IDB which has provided training, technical assistance and has served as an honest broker and facilitator during the design and implementation of the initiative.
Brazil is now the eleventh country in Latin America and Caribbean with an AEO program. The other 10 countries in LAC with AEO programsare: Argentina, Colombia, Costa Rica, Guatemala, Jamaica, México, Panamá, Perú, República Dominicana y Uruguay. More than 50 countries have an AEO program, including the member states of the European Union, the United States, Canada, Japan, China and Korea. Moreover, countries with AEO programs have the option of recognizing the secure and reliable status of a company that is conferred by another AEO country program, through a mutual recognition process. As a result, certified companies obtain additional benefits in other countries.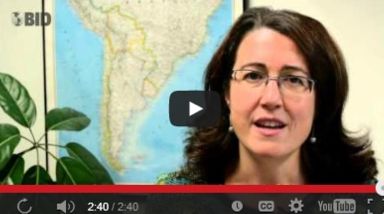 After launching the program, Brazil Customs awarded the AEO certification to the 5 companies that participated in the pilot project: Embraer S.A.; DHL Global Forwarding (Brazil) Logistics Ltda; Aeroportos Brasil Viracopos S.A.; 3M do Brasil Ltda; and CNH Industrial Latin America Ltda.
Events
2018 IDB-IIC Annual Meeting of the Boards of Governors

Mar 22, 2018. Mendoza, Argentina

EconNet: Accessibility and mobility in urban India

Dec 14, 2017. 1300 New York Ave., NW, Washington, DC - Room SE-1035, United States

EconNet: Formal and Informal Firm Dynamics

Dec 7, 2017. 1300 New York Ave., NW, Washington, DC - Room SE-1035, United States