Solid Waste Management
At the IDB we have a vision: a region with clean cities, capable of providing integrated services for solid waste management to the entire population, tailored to local realities, sustainable from the environmental and economic point of view, and socially inclusive.
To reach that vision, in 2009 the Water and Sanitation Initiative created a specialized group for solid waste management and has established a long-term program to support IDB activities in the sector.
News
IDB has activated a contingency loan of $300 million to support the government of Ecuador after the earthquake. Apr 20, 2016

Ecuador will expand water sanitation and solid waste services with $120 million IDB loan. Jun 26, 2014

The IDB surveyed 5,000 people in five Latin American megacities to gauge the infrastructure priorities of urban citizens. Mar 28, 2014
EVAL 2010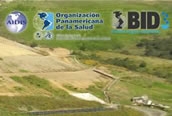 Regional Evaluation of Municipal Solid Waste Management in Latin America and the Caribbean 2010.
Videos
Recycling Dreams

In the Brazilian Coast of Sauipe, IDB Solidarity joins forces with Instituto Berimbau to turn the Verdecoop cooperative into a sustainable recycling businness for the local community.

Recycling Dreams

(01:50)

How Can You Print a Building?

Enrico Dini, inventor of 3-D printing, was one of the guest speakers at Demand #Solutions, an IDB sponsored event highlighting ideas for a better quality of life.

How Can You Print a Building?

(22:52)

Tackling "Big Foot"

How does the IDB help Guyana to tackle elephantiasis and other untreated water-related diseases

Tackling "Big Foot"

(00:06:49)