The IDB becomes a strategic partner of IPLA
The Inter-American Development Bank signed an agreement to join the International Partnership for Expanding Waste Management Services of Local Authorities (IPLA).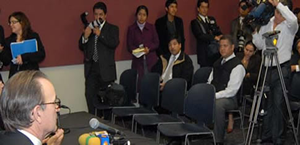 IPLA is an international partnership that assists local authorities seeking to attain sustainable waste management. IPLA's mission is to share knowledge, communicate internationally, and work to disseminate best practices in terms of infrastructure and waste-related services at the various stages of management, including minimization and prevention, separation, collection, transportation, recycling, recovery and reuse, and final disposal. It is hoped that IPLA will become a network of collaborative knowledge on a world scale, and a dynamic platform for addressing the solid waste management needs of municipalities and local authorities, by facilitating and promoting cooperation among the participating partners.
IPLA has earned the recognition and support of an array of partners, including municipalities, national governments, regional organizations, research centers, private sector corporations, donor agencies, and others. To date, more than 60 organizations have joined IPLA. The United Nations Centre for Regional Development (UNCRD) provides the support and coordination needed to strengthen IPLA and allow it to meet its objectives, in cooperation with the Asian Institute of Technology (AIT) and UN-HABITAT.
The IDB is very pleased to join IPLA by signing an agreement on April 19, 2011, thereby becoming a strategic partner that can share its experience in the waste management sector, confident that it can add value to this new, dynamic worldwide network of partners.