Municipal Cooperation to Improve Solid Waste Collection
Thanks to the intervention of the IADB, the municipal governments of Barcelona and Rosario sign an agreement to cooperate in the use of containers for the collection of domiciliary solid waste.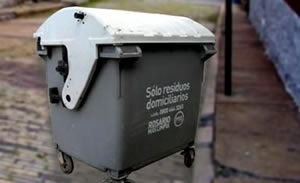 Rosario is a city of approximately 1 million inhabitants situated in the province of Santa Fe, Argentina, 300 km northwest of Buenos Aires. The municipality provides solid waste collection to 100% of households through four systems: a) metal containers; 300,000 residents have solid waste collection services with 3.2 and 2.4 m3 capacity side-loading metal containers; b) plastic containers; 350,000 inhabitants have waste collection service with 1 m3 capacity rear-loading plastic receptacles; c) door-to-door; 300,000 residents put out their trash for collection in front of their homes, in individual baskets or on the ground; and d) collection at irregular settlements; workers associated in cooperatives conduct door-to-door solid waste collection for 50,000 residents of these irregular settlements and deposit the garbage in 3 m3 metal dumpsters, which are later collected by service providers.
The container system is deemed essential to manage waste in public spaces and keep the city clean. In Rosario, high levels of citizen support to this system have not only facilitated this necessary improvement to waste collection services, but also have become it a high-demand service. Therefore, in 2008 the municipality launched a new container program, which has put numerous plastic and metal receptacles into use in a large part of the city.
In this plan framework and through the intervention of the solid waste management group of the Inter-American Development Bank (IADB), the municipal government of Barcelona (Spain) signed on May 5, 2010, a cooperation agreement to give 635 1.1 m3 rear-loading plastic containers and 150 3.2 m3 side loading plastic containers to the municipality of Rosario, free of charge. These containers are all compatible with the ones the city is already using. The lids for both types of containers have an automatic closing mechanism, which is extremely important for minimizing bad odors and preventing spills.
These receptacles have been placed in Rosario's Acindar, Carlos Casado, Zona Oeste, Tiro Suizo y Saenz Peña, and Las Delicias neighborhoods. Along with other containers to be placed by the municipality, the city is on target to reach its goal of having containers on every paved city block by June of 2011.
One of the activities of the solid waste management group at the IADB is to engage in dialogue and arrange for cooperation on specific projects with the main international stakeholders in the solid waste sector. This activity and the IADB's deep knowledge of the region have allowed the Bank to match donors with a suitable municipality in order to bring the cooperation project to a successful conclusion. This project is of particular interest to the solid waste management unit because of its great potential to be replicated in other cities in Latin America.