Bringing informal recyclers into the formal system
The Water and Sanitation Initiative supports successful attempts to bring informal recyclers into the formal waste management system.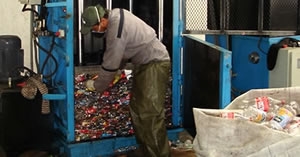 In all the large cities of Latin America and the Caribbean (LAC) there are many people whose primary occupation is to collect, separate, and sell materials such as cardboard, paper, glass, plastic, and metal. These people are generally referred to as "informal recyclers" or waste pickers. Many of them are organized into sophisticated associations, and it is estimated that some 1,000 recyclers' organizations (including cooperatives, trade associations, and unions) are scattered throughout LAC—more than any other region of the world.
In countries such as Brazil and Colombia, where waste pickers are highly organized and have begun to join formal municipal solid waste (MSW) management systems, the IADB's solid waste management group has developed a line of work to help bring these waste pickers into the formal system, and to publicize the lessons learned so that these lessons can be replicated throughout the region.
One of the region's biggest success stories is underway in Bogotá, Colombia, the metropolitan area with perhaps the best organized waste pickers in the hemisphere. The Asociación de Reclicadores de Bogotá (ARB), a second tier organization that was founded in 1990, is largely responsible for the progress in incorporating informal recyclers into the formal solid waste management system.
Further success is found in Londrina, a city of approximately 500,000 inhabitants in the state of Paraná, Brazil. Here, the potential for integrating waste pickers into the formal system is seen when collection is done after separation at the source, which serves as a model for other municipalities interested in starting selective collection programs. The Cooperativa Dos Agentes Autonomos de Reciclagem de Aracajú (CARE), a waste pickers' cooperative in northeastern Brazil, allows for the separation of recyclable materials at a formal separation plant run by the cooperative in tandem with the municipality. Related news (only in portuguese).
The IADB's Water and Sanitation Department has been supporting ARB and CARE with technical assistance resources and equipment, with a view to consolidating their roles as service providers. In addition, the municipality of Londrina received a boost from the IADB and the FEMSA Foundation when these entities awarded Londrina the Water and Sanitation Prize "for good practices in municipal solid waste management in Latin America and the Caribbean."
For more information, see the study on Organizational Dynamics of Informal Recyclers (only available in spanish).