Building Human Capital
Challenges of human development in Latin America and the Caribbean
Latin America and the Caribbean have made significant progress in the last decade….
The gap between the rich and the poor shrank in 13 out of 16 countries.
People are earning more--only 17% of the population earned less than $2.50 per day in 2009, down from 26% in 2002.
Nearly all children in the region now attend primary school, and access to early childhood education and secondary education has increased considerably.
…But important challenges still remain….
There's still a big income gap between rich and poor.
People aren't getting the training and resources they need to be productive at work.
Companies need better trained workers to become competitive.
IDB's Approach: Life-Cycle Intervention
One-shot solutions aren't enough to address the problems. Instead, well-planned and coordinated investments are needed in human capital—people—over the course of the lifetime. To truly eliminate poverty in the region, such investments must provide support beginning before birth and extending into old age. The IDB works with countries in Latin America and the Caribbean to fund programs in three priority areas to achieve that goal.
Chart - Investment in human capital needs to happen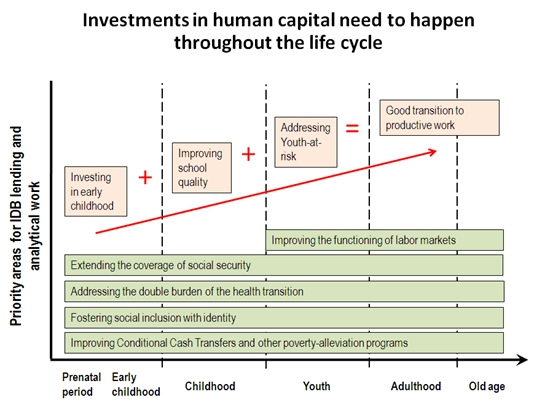 For more information on the IDB's work in the social sectors, see the Strategy for Social Policy for Equity and Productivity approved by the IDB's Board of Directors in March 2011. The approval of the policy culminated a process of consultations with governments, civil society organizations, academics and other stakeholders both outside and inside of the IDB from November 2010 through February 2011.
Strategy for social policy for equity and productivity