THE IDB'S ROLE IN PREVENTING VIOLENCE AGAINST WOMEN AND PROVIDING SURVIVOR SERVICES IN LATIN AMERICA AND THE CARIBBEAN
Millions of women in Latin America and the Caribbean (LAC) suffer from violence against women (VAW). Depending on the country, between 17% and 53% of women report that they have been victims of violence at the hands of an intimate partner at some point in their lives. The prevalence of VAW varies considerably between countries.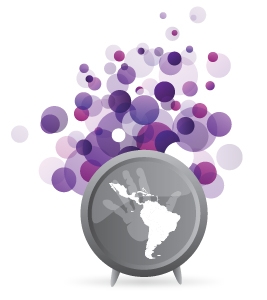 Violence has grave consequences for women as well as their children, ranging from physical harm and psychological problems to death. Women who are victims of violence are less productive and receive lower incomes, resulting in a significant economic impact on the region. VAW is associated with a loss of between 1.6% and 3.7% of GDP in countries throughout LAC.
PERCENTAGE OF WOMEN WHO REPORTED PHYSICAL
OR SEXUAL VIOLENCE BY AN INTIMATE PARTNER


Source: Violence against women in Latin America and the Caribbean: A comparative analysis of population-based data from 12 countries. Washintong, DC: PAHO, 2012.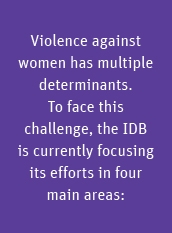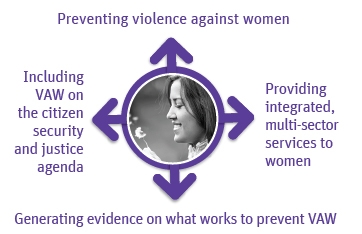 PREVENTING VIOLENCE AGAINST WOMEN
The IDB is investing in innovative approaches to preventing VAW that challenge the model of masculinity that generates violent behavior and seek to transform social norms that perpetuate unequal gender relations. Examples of these programs include:
Planting Seeds of Peace in Manchay
Peace in Machay. In Peru,

this project works with communities, primarily with boys and men, to construct non-violent and equitable relationships in an effort to create neighborhoods that are free of violence. A network of promoters spreads the message about combatting VAW and provides judicial and phycological support to women, as well as activities to empower them economically.
Preventing VAW through microfinance.

FINCA Peru, in conjunction with the Flora Tristán Peruvian Women's Center, is working to adapt the South African IMAGE program, which has reduced intimate partner violence by 55% through the integration of educational workshops on gender into a traditional microcredit program. In Peru this program is being adopted to specifically target indigenous women in rural areas.
Program H and Program M.

In

El Salvador,the Secretariat for Social Inclusion, the Salvadoran Institute for the Development of Women and the Ministry of Education are implementing these two programs that are adapted from the Brazilian model of the same name. They work with young men and women within schools to promote changes in gender attitudes and the use and acceptance of violence.
Becoming a woman. In Trinidad and Tobago

the Network of NGOs of Trinidad and Tobago for the Advancement of Women has launched this pilot program which seeks to reduce the influence of social norms that perpetuate the exclusion of women and girls. The project seeks to boost teenager's self-esteem, skills and knowledge about sexuality.
---

MULTISECTORAL INTEGRATED SERVICES FOR WOMEN´S EMPOWERMENT
The IDB is supporting governments in LAC to offer quality integrated services that help women access the help and protection they need to break the cycle of violence. Some examples include:

Ciudad Mujer (Women's City)

The Social Inclusion Secretariat in El Salvador

has initiated, with the support of a US$20 million IDB loan, an innovative new service delivery model for women. Ciudad Mujer offers integrated services under one roof, including health care, comprehensive care for violence survivors, labor force training and intermediation, business development services and childcare for those women using their services

.

Villa Mujer (Women´s Village) in Peru. The Emergency Centers for Women that are managed by the Ministry of Women and Vulnerable Populations will expand the scope of their services for female survivors of violence to include health care and trainings to promote women's economic autonomy.

Colombia's Gender and Equity Centers and Ciudad Mujer. The IDB is supporting the municipalities of Medellín and Quibdó to develo gender equity Centers and Ciudad Mujer, respectively. These centers will deliver health care, business development services, vocational training, employment intermediation, and microcredit

.

Women's City Centers in Trinidad and Tobago. The Ministry of Gender, Youth and Early Childhood Development, with the support of a US$10 million loan from the IDB, will adopt the Ciudad Mujer model to the country's specific needs and conditions.

Ciudad de las Mujeres (City for Women) in Mexico.The Social Development Secretariat (SEDESOL) is designing Ciudad de las Mujeres in Tlapa de Comonfort, in the state of Guerrero. The center is being designed to provide integrated services that will be delivered using a multicultural approach.
---

INTEGRATING VAW IN THE CITIZEN SECURITY AND JUSTICE AGENDA
Although urban violence predominantly afflicts young men, women are more likely to suffer from sexual and intimate partner violence. Furthermore, VAW contributes to aggressive behavior later in life among children who have witnessed it, perpetuating the cycle of violence.
This is why it is critical that VAW be included in the Citizen Security and Justice agenda. The IDB is partnering with its borrowing member countries to incorporate these issues in projects such as:
Paraguay.

Through a US$20 million loan, the IDB is supporting the government's efforts to strengthen capacity within the agencies responsible for citizen security to address VAW. The program seeks to strengthen the capacities of the police, improve violence response infrastructure and reeducate abusers.
Jamaica.

The Ministry of National Security has recently received a US$55 million loan from the IDB to help implement activities that promote peaceful co-existence. These activities include parenting education that promotes positive models of masculinity. The program will also strengthen services provided to survivors of VAW and administer a women's health survey that includes a VAW module.
Guyana.

A project of the Ministry of Home Affairs, supported by a US$15 million IDB loan, will seek to reduce violent behavior in communities and promote positive models of masculinity. The program will also improve inter-institutional coordination in order to prevent domestic violence, improve police stations to better serve victims of violence, and implement rehabilitation programs for incarcerated women.
Guatemala.

The IDB, the Seattle International Foundation, and Guatemala's Public Ministry are working to strengthen the Integral Service Model for victims of sexual violence in Alta Verapaz and Chimaltenango. The model includes economic empowerment opportunities for survivors.
---

GENERATING EVIDENCE ON THE EFFECTIVENESS OF INTERVENTIONS


Improving the quality and effectiveness of VAW interventions requires the identification of best practices that can be scaled up and replicated. To achieve this, the IDB is leading rigorous impact evaluations of projects that seek to prevent violence against women and to provide services to survivors, for projects financed by the IDB and other innovative initiatives in the region. These evaluations will help inform the design of future projects to reduce violence against women.
Some of the projects currently being evaluated include; CIudad Mujer and the Programs H and M in El Salvador, the adaption of IMAGE in Peru, and Becoming a Woman in Trinidad and Tobago.