The Program for the Support of Women's Leadership and Representation (PROLEAD), spearheaded by the Gender and Diversity Division, is the Bank's leading initiative to promote women's civic and political participation in Latin America and the Caribbean (LAC).
The Program seeks to increase women's access to decision-making positions and effectiveness in power in order to strengthen democratic processes and institutions in the region. It provides grants to civil society organizations and supports training and research initiatives aimed at fostering women's effective leadership in local and national political development processes.
Since its inception, some of the Program's main achievements include:
Awarding over US$4 million in grants to more than 120 organizations in LAC. Around 20% of them targeted indigenous and afro-descendant women
Building knowledge about the state of women's political participation in Latin American political parties (see online database Género y Partidos Políticos de América Latina (GEPPAL) and research study Partidos Políticos y Género: La Ecuación Pendiente)
Increasing the number of women in elected positions and the pool of electable women
Empowering discriminated segments of the population
Fostering public accountability and developing new mechanisms to monitor legislation on women's issues
Forging new alliances and strategic partnerships between elected leaders, civil society organizations and the Bank that have led to new opportunities to promote gender equality and build synergy
Mainstreaming gender issues in municipal government plans and programs, multilateral initiatives and Bank operations
Strengthening the institutional capacity of civil society organizations to strategically coordinate collective actions aimed at advancing women's agenda for change
Launched in 1998, PROLEAD was the first fund created by a multilateral financial institution specifically aimed at advancing women's political empowerment in the LAC region. The Program has cultivated valuable partnerships with its collaborating institutions - UNIFEM, OAS/CIM, UNICEF and UNDP – and donor countries. After providing the initial investment, the IDB has raised additional funds from the Norwegian, Dutch, Swedish and Canadian governments. In addition, NOVIB and the partner agencies have provided parallel funding.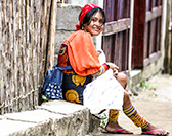 GEEPAL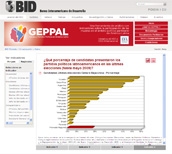 GEEPAL, an analysis tool with indicators of women's political participation in Latin America. Only available in Spanish.