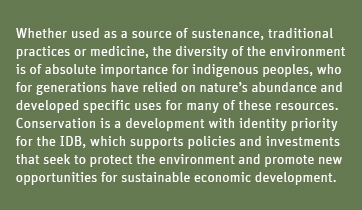 Andenes: terrace farming in the Andes
In 2009, the IDB funded a pilot program with the Peruvian government to recover indigenous terrace farming irrigation systems. The use of terraces, or andenes, was a key component of sustainable agriculture during pre-Columbian times. The return to these traditional farming techniques and improvements to existing andenes has led to dramatic improvements in the productivity of indigenous farmers. The project has boosted agricultural production, food security and increased household incomes. The Peruvian government is expanding the program.
---
Integrated ecosystem management in indigenous communities
Strengthening the capacity of indigenous communities to protect and manage natural resources, and promote sustainable uses of the environment have been key objectives of IDB projects. Programs have been implemented by the IDB which have contributed to biodiversity conservation in Belize, Costa Rica, El Salvador, Guatemala, Honduras, Nicaragua and Panama.
---
Promoting culture, protecting the environment in Honduras
The IDB, through the Nordic Development Fund, provided US$4.6 million in a program with the Honduran government to provide development assistance to indigenous and Afro-descendant Hondurans, with the primary goal of boosting climate change resilience. So far, the IDB has sponsored over 20 projects targeting water management, food security, biodiversity, agriculture and alternative energies. Educational programs have also been implemented to increase the collective knowledge and human capital of communities to combat climate change.
---
Strengthening indigenous leadership to combat climate change in the Amazon
The Coordinator for Indigenous Organizations of the Amazon Basin (COICA) received an IDB development grant to mitigate the effects of climate change for indigenous peoples of the Amazon Basin in Brazil, Colombia, Ecuador and Peru. Indigenous peoples are often excluded from the national and international dialogue on environmental stewardship, limiting their voice in decision-making processes.This project builds the capacity of indigenous leaders and communities to represent themselves at international and national meetings on climate change.