GENDER ACTION PLAN FOR OPERATIONS 2011-2013
GAP: WE IMPROVED FOURFOLD
In the last three years, the IDB loans with gender-related results have increased fourfold. That means these loans represented 37% of total Bank Sovereing Guarantee loans in 2013, significantly above the 9% they accounted for in 2010.

Also, the total dollar amount of Technical Cooperation grants and Multilateral Investment Fund projects directly investing in gender equality and women's empowerment has more than doubled from US$8.2 million in 2010 to US$19.4 million in 2013.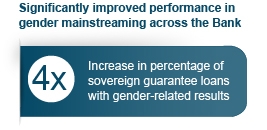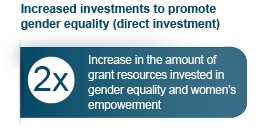 The Gender Action Plan for Operations (GAP) 2011-2013 had three main directives:

1. Gender Mainstreaming: Promote gender equality in all of the Bank's work, including loans, technical cooperation, grants, and analytical work.
2. Direct Investment: Promote investments which directly contribute to women's empowerment and gender equality.
3. Safeguards: Implement gender safeguards to avoid unintended negative consequences of IDB projects on gender equality.

Available only in Spanish