David Cotacachi
Diversity Consultant for the Gender and Diversity Division (GDI) in Ecuador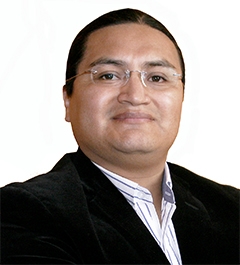 David Cotacachi works as consultant for the IDB´s Gender and Diversity Division. His work focuses on incorporating indigenous issues in Bank operations, with emphasis on climate change and biodiversity conservation.
He has extensive experience in resolving environmental conflicts between indigenous peoples, and public and private sectors. Expert in Corporate Social Responsibility (CSR), he holds a Bachelor of Applied Ecology by the Universidad San Francisco de Quito (Ecuador) and a Masters in Conservation and Environmental Policy from the University of Georgia-Odum School of Ecology (USA) with a Fulbright scholarship.
He is a member of the Kichwa Otavalo (Ecuador).