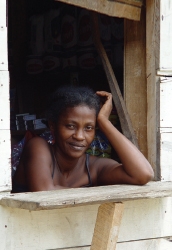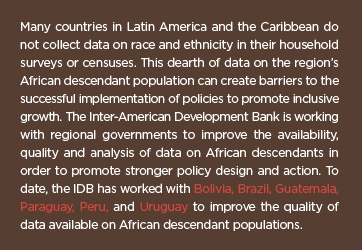 Fiscal Incidence and Racial Inequality
The IDB has a partnership with the Commitment to Equity (CEQ) project to analyze the impact of fiscal policy on closing ethno-racial gaps. By examining the impact of government spending and taxation on poverty and access to services, these studies help determine if government policies close or widen existing inequalities.
These studies provide governments with some of the information necessary to improve targeting and to better serve marginalized populations. Case studies have been completed for Brazil, Bolivia, Guatemala and Uruguay and the scope of the analysis is being expanded to include Chile, Colombia, Ecuador, Mexico and Peru.
---

Tools for Policy Analysis
In recent years, the Brazilian Government has implemented a series of policies to promote racial equality. The entity in charge of coordinating these efforts is Brazil's Special Secretariat for the Promotion of Racial Equality (SEPPIR). To help SEPPIR and sub-national counterparts comb through data on race and ethnicity with ease, the IDB recently financed the development of DataSEPPIR, an easy-to-use analytic tool that has won a prestigous award from ENAP (Escola Nacional de Administraçao Pública).
DataSEPPIR collects information from censuses, household surveys and other government databases – such as the Catastro Único - and presents this information in a clear and interactive interface using maps and geo-referencing techniques that disaggregate data at the sub-national level. This level of detail allows policy makers to quickly analyze data, monitor projects, and create reports on the status of Afro-Brazilians.
---

Surveying Afro-Peruvians
The IDB has partnered with the Grupo de Análisis para el Desarrollo (GRADE) in Peru to conduct a survey of Afro-Peruvian communities. In addition to questions typically asked in household surveys, this special study on the Afro-Peruvian Population provide an in-depth analysis of living conditions and examined the opinions of individuals on racism and discrimination.