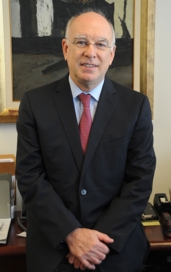 Division Chief
Vicente Fretes Cibils
Vicente Fretes Cibils who joined the Inter-American Development Bank in 2007, is co-editor of the 2013 Development in the Americas report and currently a Division Chief of Fiscal and Municipal Management in the Sector of Institutions for Development.
Joining the World Bank in 1987 through its Young Professionals Program, he first served in the Office of the Vice President for Europe and the Middle East and then Treasury Department, and from 1988 to 1992 he was Economist in the Office of the Vice President for West Africa Operations. From 1992 to 1996 he served as Chief Economist in the Department of Operations for Andean Countries, supervising adjustment programs and heading up economic and analytical missions to Bolivia. From 1996 to 2002, he served as Senior Economist for República Bolivariana de Venezuela, and subsequently for Colombia and Mexico. From 2002 to 2007 he was Lead Economist in the Poverty Reduction and Economic Management sector for the Andean Countries Department (Bolivia, Ecuador, Peru and República Bolivariana de Venezuela).
He has taught at Argentina's Universidad Nacional del Nordeste and at North Carolina State University, and his published works address topics in finance, applied econometrics, public finance, international economics, and economic development.
He completed his undergraduate work at the Universidad Nacional del Nordeste in Argentina, and subsequently pursued postgraduate studies at the University of Pennsylvania and North Carolina State University, where he received, respectively, a master's degree in business administration and a PhD in economics.