People of African descent represent 33% of the population of Latin America and the Caribbean, and an estimated 50% of them live in poverty.
Latin America is one of the most unequal regions of the world. Inequality is partly explained by the lack of opportunities determined at birth by race and ethnicity. Inequalities have a direct impact on human development and overall economic development in Latin America and the Caribbean.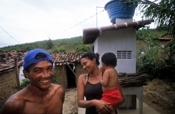 Promoting development in African descendant communities is a key component to closing economic and social gaps in the region. The ongoing exclusion of African descendants from the economic and cultural lives of their nations has an impact on democratic governance, citizen security, and in achieving the Millennium Development Goals (MDGs) in many countries.
Education - African descendents throughout the region are half as likely to attend secondary school as their white counterparts.
Gender Equality - In Brazil, African descendent women are the lowest income segment in the entire population. The political participation of Afro-Brazilian women is minimal; only a fraction of them have been elected to serve in the parliament.
Child Mortality - The infant mortality rate in the predominantly African descendent city of Esmeraldas, Ecuador, is double the national average. In the African descendent Pacific coast of Colombia the infant mortality rate is over four times the national average.
Maternal Health - Afro-Brazilian women are three times more likely to die in childbirth than their white counterparts. Fifty-seven percent of all babies born to Afro-Colombian mothers are born premature.
The IDB's Approach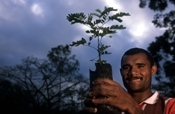 Inter-American Development Bank ( IDB ) is a leader, among International Financial Institutions (IFIs), in creating more awareness and greater understanding of the development needs and concerns of the African descendant communities in the region.
The IDB aims to promote the development of African descendant communities through mainstreaming, direct investments and the application of safeguards.
Mainstreaming: We seek to integrate African descendant communities across development sectors by improving the quality of data and indicators to upgrade the design, implementation, monitoring and evaluation of IDB operations. For instance, the IDB supports the improvement of the quality of race and ethnicity data produced by national institutes of statistics to better measure socio- economic conditions of the African descendant communities. Census and household data provide policy makers an essential tool for designing effective social and economic policies.
Direct Investment: We invest directly in strategic areas to promote the empowerment of diverse communities through projects. Culture as Livelihood: Options for Afro-Colombian Women, is an entrepreneurship training program for displaced and vulnerable African descendant women. Music and Life uses music as a means to improve the social outcomes for African descendant youth from the Colombia's Pacific Coast. The Bank also supports research exploring the political representation of African descendant women in the region.
Application of Safeguards: We seek to conduct financial operations so as to identify and address adverse impacts and the risks of race-based exclusion, by including diverse communities in consultation processes, and complying with applicable legislation relating to racial equality.
Innovative Initiatives and Partnerships
Gender and Diversity Fund
In 2009, the IDB launched a Gender and Diversity Fund committing $10 million in grant resources and $6 million in contributions from other donors, to support mainstreaming of indigenous peoples, African descendants and women in Latin America and the Caribbean. This fund has been recently expanded.
Solution for closing higher education gap, benefitting potentially millions of disadvantaged youth
IDB helps talented, underprivileged African descendent youth to gain access to quality higher education through Lumni, an innovative private sector financing for merit-based higher education program.
The IDB also provides scholarship s for virtual training courses for individuals committed to promoting development in African descendant communities in the region through the Inter-American Institute for Economic and Social Development of Knowledge ( INDES ) through a joint initiative with the Gender and Diversity Unit (GDI).
Towards the Decade for People of African Descent
The IDB has joined the United Nations in celebrating the 2011 International Year for People of African Descent to promote programs to ensure their inclusion in all economic, political, and cultural aspects of society for the next decade. An example of such programs is the development of an operational action plan to promote development with cultural racial and ethnic identity to be implemented in 2012-2013.
For more information, visit the IDB and the Year for People of African Descent