The IDB brings together experts from the region to discuss options
Millions of Latin Americans run the risk of poverty during their retirement if the region's countries do not reform their pension systems, according to experts from the Inter-American Development Bank (IDB). The reasons: increased life expectancy, a significant drop in birth rates, and the region's large informal labor market.
The Bank created the Labor Markets and Social Security Network as a forum for discussing the challenge of pension reform. The network was officially launched this month with the Regional Policy Dialogue: Labor Markets and Social Security Network, where representatives of 17 Latin American and Caribbean countries working in the field of labor policy and social security met to discuss options for increasing social security coverage.
Successes in the region's development agenda now pose challenges to pensions. Life expectancy in Latin America has risen dramatically; in 1970 the average citizen did not reach 60 years, whereas in 2005 life expectancy was already 70 years as a result of better diets and medical advances. Countries such as Costa Rica have a life expectancy comparable to that of the Nordic nations: 79 years for men and 80 years for women. Although Latin America's population over 65 presently represents less than 7 percent of the total population, its share in 40 years will nearly triple to almost 20 percent, according to the IDB.
These demographic changes result from a sharply lowered birth rate. In 2000 a retired couple had an average of six children, while in the first half of the decade starting in 2020 this figure will fall to an average of four, and by 2030, will have dropped to three. All of this means increasingly fewer workers and children to support people in their later years, thus increasing the risk that citizens reaching old age will find themselves in a precarious situation.
To this we must add the impact of Latin America's large informal labor markets. Millions earn their living in the informal economy. Some work on their own or are self-employed on an irregular basis. Others receive salaries, but they are not registered by their employer. Besides having no pensions when they retire, informal workers generally lack access to public health systems that are open to formal workers.
According to IDB data, an estimated 43 percent of the region's salaried workers are not covered by a pension system. In Mexico, for example, 22 million workers receive salaries, but only about 14 million are part of the social security system, according to Santiago Levy, IDB vice president for sectors. Millions more work for themselves or in family enterprises.
Challenges facing the pension and social security systems are clear, but not the solutions. Countries presently spend on average 5.9 percent of their GDP on pensions and social security. It is expected that by 2050 they will have to spend 8.6 percent of GDP just to maintain current coverage; increasing coverage through existing programs would generate more deficits. Attempting to fill this gap by raising social security payments carries with it the risk of further encouraging the informal economy, says Carmen Pagés-Serra, head of the IDB's labor markets unit.
Nobody disputes that social security coverage must be increased. The question is how to do so in a sustainable manner and without incurring a higher fiscal deficit. In addition, a key factor is that the social security system should create incentives for formal economic activity and growth of labor productivity, says David Kaplan, IDB chief economist.
Regional Dialogue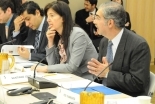 The Regional Policy Dialogue is a forum where senior representatives from countries in Latin America and the Caribbean share experiences. At this meeting there was a "central concern over how to extend coverage to informal sector and self-employed workers who have not traditionally had access to social security," says Augusto Iglesias Palau, social welfare undersecretary in Chile's Ministry of Labor and Social Welfare. "Social security systems must provide long-term solutions that cannot depend on temporary political majorities, but rather on technical and political consensus," he adds.
Another challenge for the region's countries is obtaining solid data and statistics, the empirical evidence on which to base effective policy, says Manzoor Nadir, Guyana's labor minister. Dialogue is an important step for enabling the Bank and the region to learn about best practices in managing social security programs in Latin America and the Caribbean.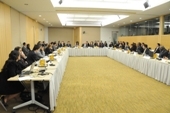 The IDB will continue to work with member countries to expand empirical knowledge and help countries implement best practices to improve social security programs. The IDB has the dual role of both generating knowledge and carrying out operations in the areas of social security and pensions.
The IDB operations are presently helping to implement the recent pension reform in Chile, develop an information system to improve social security policy in Uruguay, and support institutional capacity for social security management in Brazil. The Bank is also carrying out two regional projects to improve education in social security and develop a regional information system in this area. The Bank is also producing a series of studies on evaluating the feasibility and cost of universal pension coverage, designing better systems of support for the unemployed, and gauging the effects of social security on the region's labor markets.